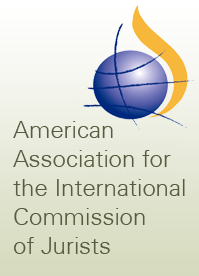 Give to Human Rights.
Give to Rule of Law.
Thank you for your support of the American Association for the International Commission of Jurists!
Our donors make possible our day-to-day activities, observer missions, the Annual Colloquium and related publications, which seek to promote the rule of law and fundamental human rights — in the U.S. and abroad. Members will be regularly briefed on activities of the AAICJ and any upcoming events of interest.
Membership is available at the following levels:
Benefactor – from $1,000
Sponsor – from $500
Sustaining Member – from $150
Student Member – from $25
For a one-time donation or a multi-year pledge, please download the AAICJ Membership Form and fax/mail it to our NY office. (This is a PDF document – you will need adobe reader to view these files.)
AAICJ is a 501c(3) tax-exempt organisation, and all contributions are tax-deductible to the extent allowed by U.S. law. Please note that we are currently only able to accept contributions via snail mail.
If you have any questions or would like additional information on becoming a member, please direct your inquiries to aaicj[at] mindspring[dot] com.